dear traveler,
we used to talk about time travel. paratactic coordination, arranged as equal to. tarps are aural arousal, an utterance through movement. altered, breaking down. they wear, they wrinkle, a grid, a pixel, their temporary fix. earth, a form.
invitation to travel back to blue, wrestling the immemorial. subverting suppositions into proposals. lean-tos and sites, horizonal freedoms, not for free. image as image, from image, for image.
photograph as time, a resistance into frame. normative structures to be forsaken, not to be ignored. stand and walk away, returning as closed eyes investigate. listening, waiting, simultaneous, gravity projected. back, floating in space.
intimately,
felicia e. gail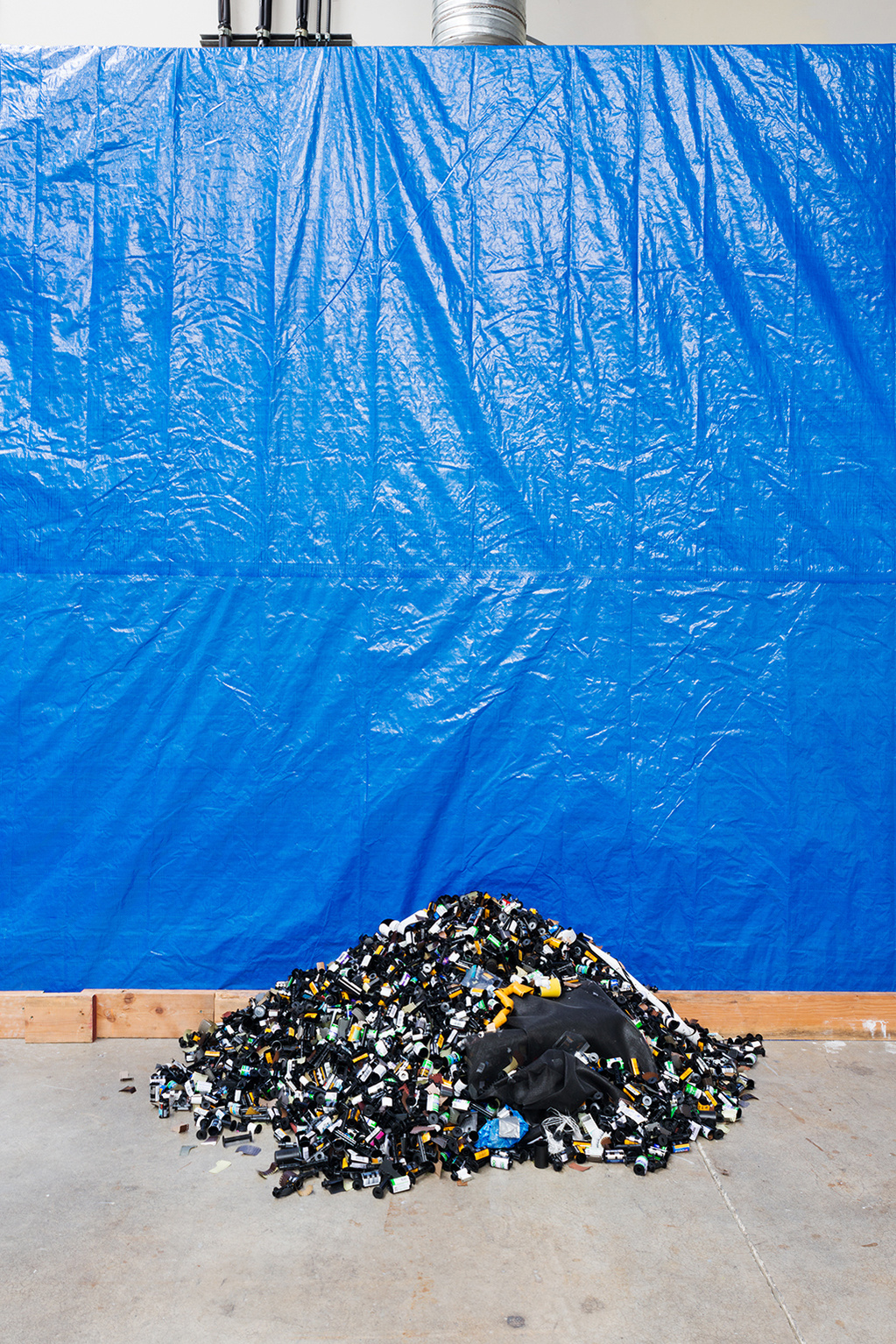 East Wall
dear traveler
Gallery sign, digital inkjet print on cotton paper, mounted on mighty-core.
2015
tarp wall, earth, and mound I
Site-specific installation.
2015
Includes:
industrial landscape III, 2009, untitled, 2015.
Digital inkjet print, frame, blue ratcheting strap, moveable gallery wall.
2015
blue cenotaph
Repurposed beams and painted pallet porch, repurposed tarps (2011-current), found umbrella frame-antenna (thrown).
2015
III travellers
Sections of used tarp (2015) mounted on aluminum sheet.
2015
Varied Edition 1 of 3.
South Wall
tarp wall, earth, and mound II
Site-specific installation.
2015
Includes:
blue tarp wall
Repurposed wood beams, new blue tarp (2015), repurposed white tarp (2015), orange roofing nails, black screen mesh, repurposed film canisters, repurposed blue tarp (2015).
2015
West Wall
lean into it
Three bailey metal studs (platinum)
2015
Edition of 3.
tools for a peninsula I
Site-specific installation. Blue cord, stained fir strips.
2015
West Wall Continued
floating in space, traveler in view
Glossy digital light-jet prints mounted on sintra, stained fir structure, repurposed plexi globes, mixed steel (nuts, bolts, washers, screws).
17.64" x 17.64" x 5" each
Unique
tools for a peninsula II
Site-specific installation. Tan/red rope, 100+ year old spool, red tape, stained fir strips
2015
Gallery Centre
but a night without moon or star (projectile interior)
Site-specific installation. Repurposed wooden ladder, dust, red cotton tie, red synthetic rope, copy of The New Dictionary of Thoughts: A cyclopedia of quotations from the best authors of the world, both ancient and modern, alphabetically arranged by subjects, ed.1961
2015
Unique.
North Wall
bearing to a point
115glossy chromogenic prints.
4" x 5.33" each
2015
Varied Edition 1 of 5
travel back to blue
Felicia E. Gail
GALLERY 295
October 23 - December 5, 2015
Felicia E. Gail returns to Gallery 295 with a major solo exhibition, travel back to blue. She explores her continued investigation of paratactic objects and personhood through photographic installation. Gail imbues the architectural form of 295 into a site of immersive display, where her key materials, Tarps, take on a transformative quality and lead one through a rich dispersal of use recorded as-photograph within the tarps themselves. Here the relationships between what is presented are aroused by her intersubjective connections with these materials, which are explored as photographic stand-ins as a function of personhood – translated into poetics through form. Parallel to her as-photograph tarps is the spatial construction of support structures as-landscape. These supports intersect the whole of the gallery with deliberate spaces for intimacy.
Together these materials and temporary structures, in tandem with photographic images and used-up film canisters, articulate Gail's own horizon as a frame through which her subjective poetics takes place. This immersive horizon of objects invokes and obscures what is understood as seen and experienced. In travel back to blue Gail implements a kind of autopoiesis – a system where the installation is itself a generative production and result of a history located in the roots of South-Eastern Americana, loss, desire, and the complex journey to the Pacific North West. The as-photograph pieces within the as-landscape installation serve as a kind of time-travel into Gail's original purposing of these items through their repurposed forms emphasizing their socio-political connotations. As a whole these materials bring the poetics of Felicia E. Gail's expanded photographic practice into the foreground and immediately transports her poetics into the backgrounded horizon of personal interpretation and projected meaning, which for Gail results as a function of time-travel. travel back to blue is an invitation to experience.
Exhibition text by Patryk Stasieczek.